News
10.01.2023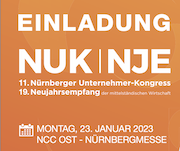 Platinum Partners wird am 23.1.2023 erneut am "Nürnberger Unternehmerkongress mit anschließendem Neujahrsempfang" teilnehmen und zu diesem Anlass auch einen Gesprächskreis (Nr.5) zum Thema "Geschäftsmodelle in der Krise: Transformation fördern, nicht verhindern" leiten und moderieren. Nähere Informationen finden Sie in dem beiliegenden Flyer oder unter Nürnberger Unternehmer-Kongress & Neujahrsempfang - Unternehmer-Kongress & Neujahrsempfang der mittelständischen Wirtschaft.
15.10.2021
M&A-Heute Reihe der Westfälischen CF-GmbH zu dem Thema: "Erfahrungen bei dem virtuellen Unternehmensverkauf"
Gesprächspartner: Herr Westerbarkei und Herr Krüger
Bogota, 15. April 2021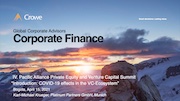 Corporate Finance: IV. Pacific Alliance Private Equity and Venture Capital Summit
"Introduction: COVID-19 effects in the VC-Ecosystem"
20. Juli 2020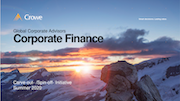 Corporate Finance: Carve-out- /Spin-off- Initiative
March 3rd , 2020 – Presentation Lisbon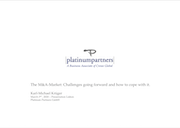 The M&A-Market: Challenges going forward and how to cope with it
Crowe Advisory Services (India) LLP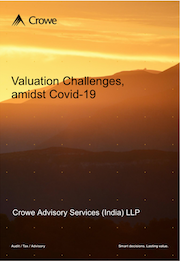 Valuation Challenges, amidst Covid-19
Acquisition International - Award Winner 2018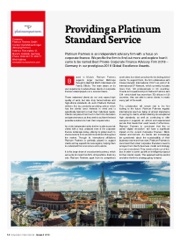 Best Private Corporate Finance Advisory Firm 2018 - Germany
Acquisition International - M&A Awards 2016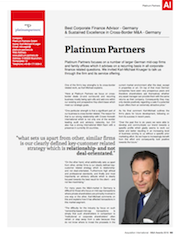 Best Corporate Finance Advisor - Germany & Sustained Excellence in Cross-Border M&A - Germany
26. Juni 2014
Platinum Partners AG wurde nun ebenfalls in das internationale Netzwerk der Crowe Horwath aufgenommen.
12. Juni 2014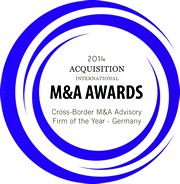 Wir freuen uns, ankündigen zu können, dass wir eine zweite Auszeichnung erhalten haben. Die renommierte Fachzeitschrift Acquisition International (www.acquisition-intl.com) mit einer Auflage von über 53.000 hat Platinum Partners als 'Cross-Border M&A Advisory Firm of the Year – Germany' gewählt. Laut Acquisition International, ist Platinum Partners in diesem Jahr eindeutiger Gewinner dieser angesehenen M&A Auszeichnung.
15. März 2014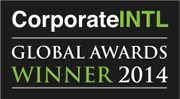 Das Corporate INTL Magazine (www.corp-intl.com) mit mehr als 70.000 Empfängern weltweit hat Platinum Partners als Gewinner des "2014 Corporate INTL Magazine Global Award" in der Kategorie "Cross Border M&A Advisory Firm of the Year in Germany" gewählt.