Notizie
Acquisition International - M&A Awards 2016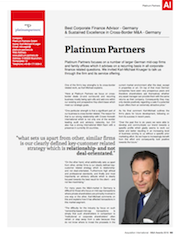 Best Corporate Finance Advisor - Germany & Sustained Excellence in Cross-Border M&A - Germany
26 Giuno 2014
Sia Platinum Partners GmbH (Germania) che Platinum Partners AG (Svizzera) sono Business Associates del network internazionale del gruppo Crowe Horwath International.
12 Giugno 2014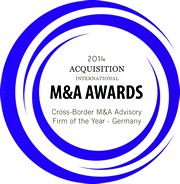 Siamo lieti di annunciare che abbiamo ricevuto un secondo riconoscimento internazionale. La rinomata rivista Acquisition International (www.acquisition-intl.com) con una tiratura di oltre 53.000 copie ha eletto Platinum Partners quale 'Cross-Border M&A Advisory Firm of the Year – Germany'. Secondo il parere di Acquisition International, Platinum Partners è il chiaro vincitore di questo prestigioso riconoscimento di M & A per quest'anno.
15 Marzo 2013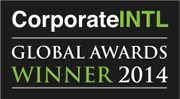 La rivista specializzata Corporate INTL Magazine (www.corp-intl.com), con una distribuzione di oltre 70,000 copie in tutto il mondo, ha scelto Platinum Partners quale vincitore del premio "2014 Corporate INTL Magazine Global Award" nella categoria "Cross Border M&A Advisory Firm of the Year in Germany".